SOM Vote: Show Us The Money
by Thomas MacMillan | December 17, 2009 7:28 AM | Permalink | Comments (6)
Yale got provisional permission to build a bold new home for its School of Management — but only after it has the $145 million to pay for it.

The conditional OK came in the form of a vote Wednesday night's monthly meeting of the City Plan Commission.
Commissioners voted to approve a Yale proposal to build a brand new School of Management (SOM) building at 155-181 Whitney Ave. The massive glass-and-steel edifice (pictured) — characterized as by some as airport-like — carries an estimated $145 million pricetag and is intended to be up by September 2013.
The SOM proposal now moves to the Board of Aldermen, which will hold a public hearing before voting on a final approval.
The building proposal was before the City Plan Commission because it entails the creation of a Planned Development District. A PDD is a powerful — and contentious — zoning tool that creates special permissions for individual large-scale building projects.
The City Plan Commission's approval of the PDD application came with a number of conditions.
Among them was a requirement that Yale possess the funds needed to build the new building before it begins tearing down the existing two buildings at the site.
Commissioners further required that there be no more than 90 days between the completion of demolition and the commencement of construction, and that construction take a "reasonable" amount of time.
Commissioners said they were trying to avoid a situation in which Yale runs out of money mid-project and leaves a "hole" on Whitney Avenue.
The commission also included conditions that would require a redesign of the north side of the proposed building to create more room for pedestrians and cyclists, and 24/7 access to a foot and bicycle path from Pearl Street to Whitney Avenue. The commission suggested, but did not require, that the path be reconfigured for ease of biking and to increase late-night safety.
None of the commission's conditions are binding. The Board of Aldermen makes the final call.
After the meeting, Yale Associate Vice President Michael Morand (at right in photo) said he is pleased by the commission's decision. He expressed confidence that the project would meet the "spirit" of the board's recommendations.
Several neighbors expressed disappointment with the commission's decision and promised to continue to fight the plan.
Details And Reasons
At a public hearing at last month's City Plan meeting, some neighbors spoke out against the plan. No further public input was allowed on Wednesday evening. Instead, commissioners heard from City Plan staff, who explained the details of the proposal and gave reasons that commissioners should approve it.
Tom Talbot, deputy director of zoning, explained to commissioners that a PDD would allow the building to have much smaller side yards and to be higher in the rear than zoning would otherwise allow.
A PDD would also allow the building to have a "substantially higher" Floor Area Ratio (FAR) than would be permitted under regular zoning, Talbot said. The SOM building as planned would have a FAR of 1.15, meaning that the total floor area of all of the floors in the building would be 1.15 times the size of the entire property.
In other words, it's a big building for the property. It's so big that City Plan staff recommended that the north side be adjusted to create a side yard of at least 16 feet. It is now planned as eight feet wide at its narrowest, which "does seem very pinched," said City Plan Director Karyn Gilvarg (at right in photo).
But, she added later, the building's large dimensions "have to be taken in the context of what we're getting — a unified building, of somewhat subjectively, high architectural quality."
What's more, Gilvarg said, since the plan calls for underground parking, existing parking lots can be converted to green space.
"The city has been encouraging Yale not to spread out" by buying more non-taxable property, Gilvarg said. The city has asked Yale to instead use what it already has. And that's what Yale is doing.
"An Enormous Issue"
City Plan Commissioner and East Rock Alderman Roland Lemar was the first of a number of board members to worry aloud about Yale starting a project it can't finish.
What if Yale takes the building's down and there's an "economic collapse" and the university can't finishing building the new SOM? he asked.
Gilvarg responded with two suggested conditions of approval: One, that any "interim uses" of the site between demolition and construction be approved by the City Plan Commission. And two, that demolition shall not commence until Yale has the money to complete the project.
Commission Chair Ed Mattison liked the conditions. "This is really an enormous issue," he said. "To blow a hole into that significant a part piece of Whitney Avenue" is not to be taken lightly.
Lemar said it's important to "protect this neighborhood from a vacant site."
Lemar and other commissioners mentioned other plan modifications that they'd like to see, including improvements to the bike and foot path from Pearl Street to Whitney Avenue and better tree coverage on the south side of the building. Commissioners agreed that these specific details could be discussed at future site plan reviews, after the project has been approved in general.
The board voted unanimously to approve the PDD application, with a number of conditions, including the two that Gilvarg suggested.
Design Debate
"I'm delighted that the City Plan Commission has moved this project forward," said Morand, after the vote. The commission's approval means that it found the building "meritorious," Morand said.
He said Yale looks forward to working with aldermen and neighbors to "see how we can meet the spirit of the recommendations." The details remain to be worked out, he said.
After working on the project for three years, Morand said he could not comment on the new conditions — heard only in the last three minutes — that would require funds in hand before construction begins. The School of Management has a great record of success raising money, he said.
He cautioned that requirements intended to speed up construction could actually slow the project down. For instance, if the Board of Aldermen requires 90 days minimum between demolition and construction, that could delay the start of demolition, since Yale would have to take more time to make the preparations to meet the 90-day deadline.
That's not what neighbors want, Morand said, pointing to Richard Kane, who lives behind the site on Lincoln Street.
"I'd just as soon have no delays," Kane said. "I'd like to have the building taken down while my windows are shut during the wintertime."
Kane said the design of the SOM building is better than it could have been. "I'd rather it be longer and lower, than higher," he said.
Other neighbors weren't so sanguine. Joe Tagliarini, whose Bradley Street house borders the site, described the building style as "behemoth architecture in need of a whack on the head."
Tagliarini just put a one-room addition onto his house. He said that project underwent far more scrutiny by building officials than Yale's $145 million building proposal.
Andrew Drabkin, who also lives on Bradley Street, dismissed Kane's argument that the design could have been worse. "Yeah, it could be worse, but it could be a lot better." Kane's Lincoln Street property will look out on the SOM building's new terraced, landscaped backyard (pictured). But Bradley Street residents will have no such buffer, Drabkin said.
Tagliarini, whose house will be the closest on Bradley Street to the new building, said he will have to deal with the "fishbowl effect" of SOM students looking down into the pool in his backyard.
Tagliarini and Drabkin both termed the SOM building as simply too large for the neighborhood. They're two of nearly 20 neighbors who wrote to the City Plan Commission to object to the SOM proposal.
Not only is the building too big, Tagliarini and Drabkin said; the design is unattractive. Commissioners should have addressed that, they said.
"They [the commissioners] walked right by one of their obligations," said Anstress Farwell, head of the New Haven Urban Design League. "You have to deal with design."
"An airport doesn't belong on Whitney," Farwell said.
"We are not architectural gurus," said Mattison later, defending the commission's lack of aesthetic discussion. "Given what we've approved on various occasions, this is not out of line."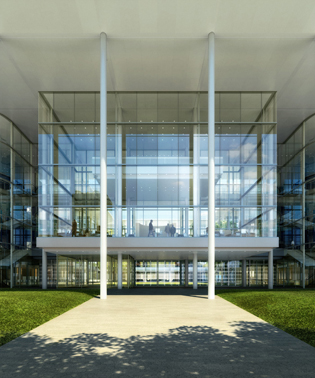 Gilvarg said the City Plan Department's advisory report does tackle aesthetic questions. She offered a defense of the design. "The building in its shape and massing is fairly respectful to Whitney Avenue," she said. The front of the building [pictured] presents a "modern version of a traditional collonade," which "plays off of other buildings" on the street.
Gilvarg said she welcomes the design debate that has accompanied the SOM proposal. "That debate is a feature of the academic community," she said. "It's a positive factor of having Yale here."
The school has a "tradition of being adventurous" when it comes to architecture, she said. And many of its adventurous plans cause controversy. But many are also later lauded. "How many hundreds of people come to visit the Yale whale every year?" she asked.
Share this story
Comments
Posted by: john | December 17, 2009 9:05 AM
"How many hundreds of people come to visit the Yale whale every year?" she asked.
I'd be very eager to find out the answer to that question, and I'm not sure it would support Gilvarg's implied argument.
Posted by: nutmeg
| December 17, 2009 9:20 AM
and how many thousands came to see the destruction of the coliseum?
Posted by: Scot | December 17, 2009 9:45 AM
Bittersweet. I love it that they're building a new business school there. I'm very disappointed in the style. It is true that taste is subjective. I appreciate that Yale likes to be adventurous in their architecture. But its one thing to be adventurous in a downtown area that already has a wide range of building sizes and styles. I don't think this quiet residential area is the place to be so bold. You don't need to be an "architectural guru" to realize that this design carries a lot of risk. Maybe it will come out looking magnificent (I hope); if not it could become the laughing stock of the other business schools, and something that leaves a pit in the stomach of its neighbors. I realize this architect is world renowned. But there are so many other world renowned architects who probably would have come up with something quite different for that location.
Posted by: Norton Street | December 17, 2009 10:45 AM
If I wanted to see clouds, I'd simply tilt my neck more and look at the sky. When I look at a building I want to see a building. Apparently its perfectly acceptable to design a butt ugly building, surround it with glass to reflect the sky so that no one has to see your butt ugly design and call it a day? Really? Millions of dollars can't do better than this?
Should our buildings, especially institutional ones, and even more especially our financial related buildings, not represent sturdiness, longevity, permanence, strength, and security? In what way does a glass building with a white plane sitting on top of it communicate anything other than transparency, lightness, floating, and therefore temporariness?
Whitney Ave has established a beautiful, pleasant, walkable, intricate, detailed, interesting, and historic character over its long existence; this should be respected, related to, continued, preserved and highlighted in any new building built along it. There are ways to respect history with modern design, but this building does not do it because it does not want to respect the inherent limitations and the, unfortunately, unwritten rules that come with a site like this.
This building is straight up hot nasty garbage.
"'The building in its shape and massing is fairly respectful to Whitney Avenue,' she said. The front of the building [pictured] presents a 'modern version of a traditional collonade,' which 'plays off of other buildings' on the street."
When you say something this completely wrong, its not because of ignorance it can only be from purposeful misleading, and flat out lying. Residential buildings generally (not always) have 12 to 16 foot proportions that marks where horizontally and/or vertically massing changes occur. These dimensions also relate to the interior spaces of living rooms, dining rooms and bedrooms. Often one can observe how a central entry way protrudes out with set back dining and living rooms on either side of the entry, that is one way of massing a residential scale building.
http://historicbuildingsct.com/wp-content/uploads/2008/05/acardinalhouse.jpg
If the scale is going to be bumped up to the level of the proposed SOM building, then massing must be used to break the building down to whatever scale is surrounding, which in this case is large single family residential. And the colonnade comment is just embarrassing; the most important characteristic of colonnades is proportion derived from the human body. What species are the SOM columns derived from!?
Posted by: East Rockette | December 17, 2009 11:46 AM
Agreed, Norton St. Those "columns" are toothpicky. Or just plain icky. They don't speak to anything else in the neighbourhood, unless they're a rude two-spindly-alien-fingered gesture to the Torosaurus over the road, which is doing its cretaceous best to guard the Peabody against architectural monsters from the future.
The colour palette continues to bug me. Whoever said airport was right on: it's not just the clinical vibe, but the height of that portico or whatever it is. Not welcoming to humans, but just about right if a 747 should want to pull up outside on Whitney.
The rear view of the building is slightly less heinous (phew) and good to see greenspace (yay), although it does look to be way too close to the Bradley St neighbours, who deserve better than that.
The one encouraging thing is that proper attention is being paid to public access, and that the path will be wide, welcoming, well-lit, and open 24/7. It will, won't it?
Any word on what will happen to the trees out front, esp that magnificent old gingko and the truffula yew?

(My secret fantasy: the SOM runs out of money, and the city turns the cleared lot into a proper city park, with drinking fountains, benches, a small playground, a kiosk for refreshments, a dog-run, and a shallow duck-pond with a fountain in the middle, so we can paddle in summer and skate in winter. Reckon it could be done for way less than $150 million?).
Special Sections
Legal Notices
Some Favorite Sites
Government/ Community Links
---
---